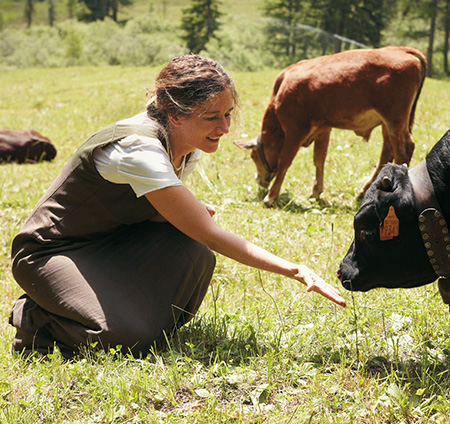 Like most old mountain hotels, Hotel Bellevue has an enthralling history. It was founded in 1925 by Leone Cesariano Cunéaz and subsequently managed by his daughter-in-law Romilda, the mother of Pia and mother-in-law of Carlo. It is presently managed by Paola, Piero and Carlo with Laura and Mimmo working alongside them. The hotel's prestige as an historic establishment continues to be on the rise thanks to the owners' awareness of their clients' demands and the changing tendencies among both Italian and international clientele.
In 1989 La Brasserie du Bon Bec opened.
In 1992 the first swimming pool was built.
In 2000 the hotel became a member of the Relais & Châteaux association.
In 2002 the wellness centre was extended and Bar à Fromage, restaurant de montagne opened.
From 2003 Le Petit Bellevue was awarded with a Michelin Star.
In 2004 Le Marché aux Puces opened.
In 2005 Bellevue was awarded as the best restaurant in Aosta Valley.
In 2012 "Gran Paradiso Springs" wellness centre opened.
In 2013 the spa won the Prix Villégiature for the best Hotel Spa in Europe.
In 2014 the wine list received the 3 stars from "The World of Fine Wines, World best wine list"
In 2015 the new suite "The angels' Nest" was built and it was inaugurated in December
In 2016 the new district heating system was built and the optical fibres were installed
In 2017 the new area of the boutique Le Marché aux Puces was opened
In 2018 the new Bakery of the Hotel was opened
In 2019: Extension of the facade ooverlooking the glacier
In 2019 the wine list of the Petit Restaurant receive, as the last two past years, two glass rating by Wine Spectator
In 2019: Extension of the facade overlooking the village